I first ran across Fat Boyz Barbeque at the Styx concert at the Pompano Beach Amphitheatre – their Food Truck was serving barbeque pulled pork sandwiches and more for the crowd. It was quite good, so today I stopped by their full service restaurant site to check them out.
First, the service – The food truck was manned by the owners that night, so of course they were as nice as they could possibly be – otherwise I wouldn't have stopped. At the restaurant, the lady running the register was also extremely nice – even seemed happy I stopped by. She made a point to tell me that everything was made from scratch onsite while I was looking at the menu – a nice touch.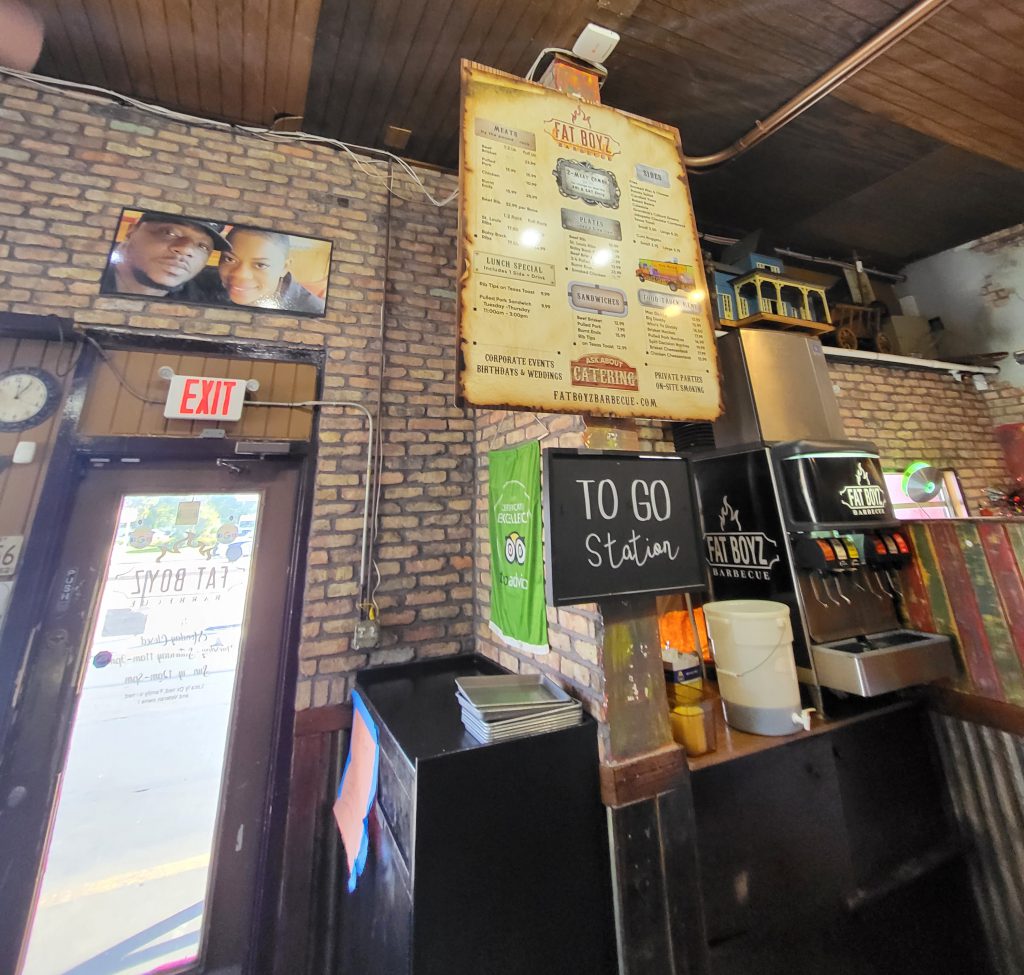 Now for the review…and it's barbeque so we start with the most important element for a North Carolina boy…the Sweet Tea! This is far and away the best Sweet Tea I have had outside of NC. The right amount of sugar (aka, almost too much, but not – you guys know what I mean), no bitterness, and it was fresh! It was good enough I'd stop here for that alone!
I got the Rib Tips with 2 sides. Presentation-wise, they were beautiful! The right amount of char, and still plenty of meat. It's the outside edge of the rib slab, so you expect it to be dry, but they managed to keep a bit of moisture – nice smoky flavor, though I would have liked it to be a little more flavorful on its own. Here they seem to be relying on the sauce to provide the full experience – which is ok, but personally I like the meat to provide its own experience, with the sauce as an an added layer of flavor.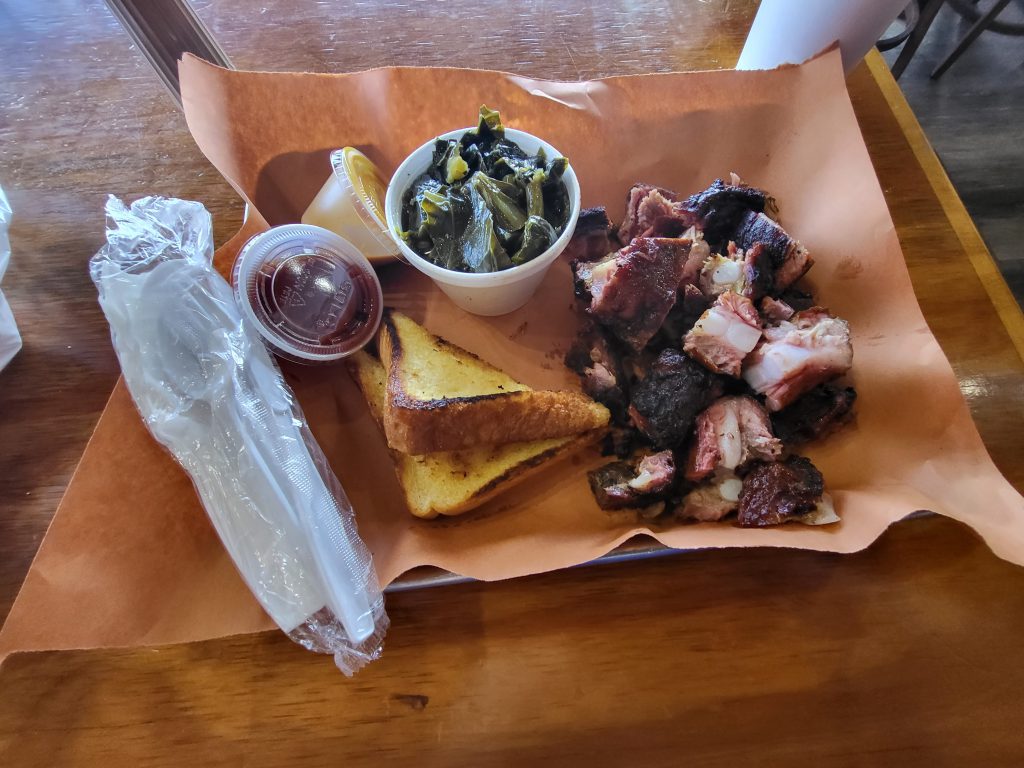 As for the sauce, it came with 2 choices…a Texas-like sweet/spicy, and a South Carolina mustard sauce. The Texas sauce was ok…nothing to write home about, and the Mustard sauce was very mustardy. Those of you who know me know I have a thing about "Carolina" sauces…there is a huge difference between the 3 true Carolina sauces, and why every one seems to grab South Carolina's mustard sauce is beyond me…I'm an Eastern NC Vinegar guy through and through! Oh, I have been known to throw in the Western North Carolina Ketchup-based sauce on occasion, but I just can't get behind South Carolina mustard…but I digress…
The Collard Greens however were something magical. Not cooked within an inch of it's life like most people do, it had a hint of what I am almost certain was a bit of apple cider vinegar. Not enough to overpower them, but just enough to brighten them up and make them a true delight.
I also got the Beef Rib, which was pretty as well – lot's of meat on the bone. I haven't tried it yet, as it's tomorrow's lunch, but I have faith in it!
I had the pulled pork sandwich with the Texas sauce from the food truck, and it was actually a true pulled pork, not pulled and chopped like I grew up with. There were decent sized pieces of pork – not so big that you couldn't handle it, but just the right size pieces. Again, this was with sauce so I couldn't judge the meat by itself but it was quite good as it was.
All in all, I give them 4 stars:
Sweat tea – Out of this world!
Rib Tips – Good but a bit bland by itself.
Collards – Absolutely magical!
Pulled Pork Sandwich – Good, but I want to try it on its own.
Beef Rib – Looks awesome – I'll update this once I try it.
Bottom line – I will be back to try more things…the menu has a lot more that are just begging for me to try…and the Peach Cobbler really got my attention! I have to try it next time!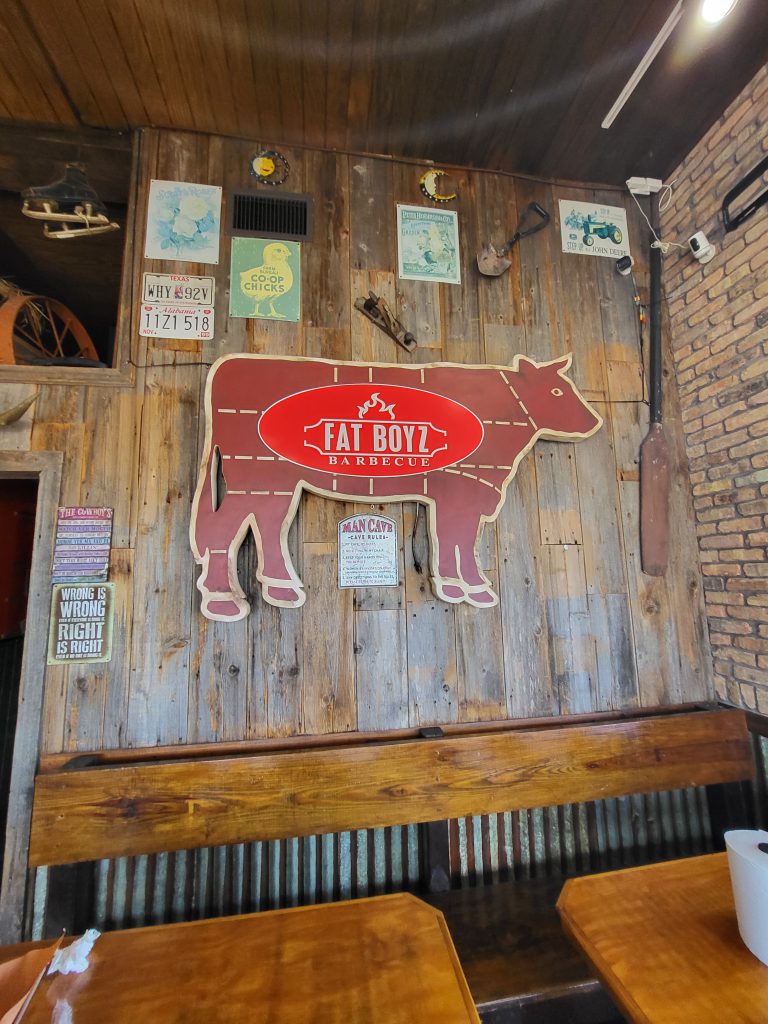 Thanks for reading! For now, this is The Ninja, and I'll see you soon!