Pictures to follow – this is my go to Christmas Party treat – I usually have to make 2!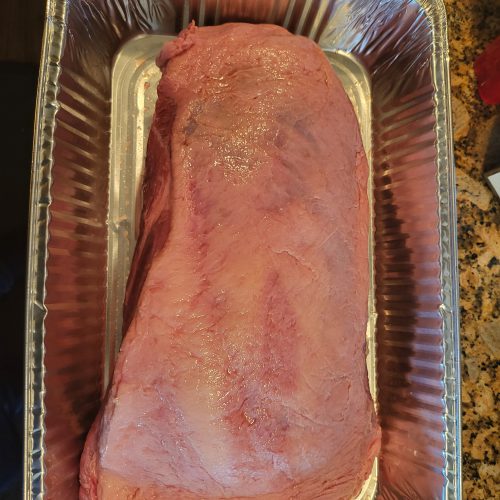 Hot Smoked Beef Brisket
Equipment
Gas Grill

Grill pan with grate
Ingredients
The Injection/Marinade
1

Quart

Beef Broth

2

Tbsp

Beef Bullion Powder (Wylers)
The Rub
3

Tbsp

Beef Bullion Powder (Wylers)

1/2

Cup

Kosher Salt

2

Tbsp

Coarse Ground Black Pepper

1

Tsp

White Sugar

1

Tsp

Cayenne Pepper Powder

1

Tsp

Chili Powder

1

Tsp

Granulated Garlic

1

Tsp

Granulated Onion
The Meat
1

15-20 Lb.

Whole, untrimmed beef brisket
Instructions
The Injection/Marinade
In a large pot bring the beef broth to a boil and dissolve the beef bullion powder.

Let cool. If using later, it can be kept in the refrigerator for up to 2 weeks
The Rub
Add all ingredients into a bowl and mix together.

This can be stored in an airtight container indefinitely.
The Beef
Trim the brisket. Place it fat side up in an aluminum baking pan.

Inject it all over the brisket, about 1" apart

Flip it over and pour the remaining marinade over the meat

Cover and refrigerate for at least 6 hours or preferably overnight.
Time To Cook
30 minutes before you are ready to cook, prepare your smoke (or grill with a smoker box). Heat it to 350 degrees – you will be looking for an average of 300 degrees

Remove the brisket from the marinade and discard the marinade

Cover the brisket with the beef rub and rub it into the meat.

Place the brisket in a fresh aluminum pan with a rack, and put it in the smoker.

Remove and cover with aluminum foil and cook for 1 1/2 more hours, or until the temperature at the point hits 205 degrees.

Remove the brisket from the smoker. Ensure it is tightly covered with aluminum foil and then wrap it in a blanket (I have one just for this), and let it rest for 3-4 hours.
Ready to serve
Unwrap the pan, and remove the brisket. Strain the juices and pour them into a medium saucepan and warm over medium heat until it simmers

Slice the brisket against the grain into even slices. Place into a tray and pour the warm juices over it and serve.
Notes
Note:  I found the recipe this is based on years ago, but it is no longer online.  It was also an adaptation of a recipe by Myron Mixon, without whom this recipe would not exist.  His original recipe is in his book "Smokin' with Myron Mixon".