Yes, the Ronco Rotisserie truly DOES make the best Prime Rib! Set it and forget it! OK not really, as you do want to monitor it for doneness, but almost. Shown here with homemade scalloped potatoes.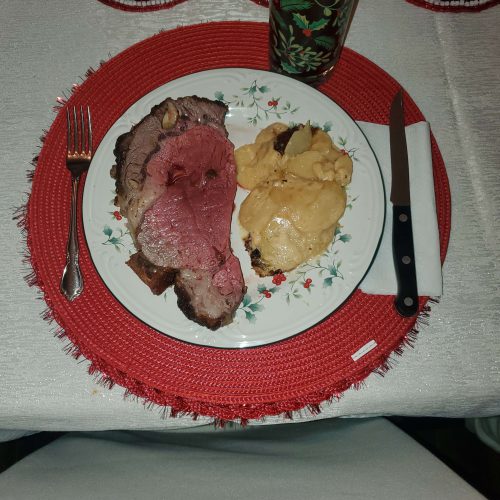 Rotisserie Prime Rib
Ingredients
1

Prime Rib

Either a large 2 bone or small 3 bone roast

Garlic Cloves

Olive Oil

Prime Rib Rub

Below
The Rub
Kosher Salt

Course ground Black Pepper

Cajun Seasoning

Tony's or Emeril's
Horseradish Sauce
1

cup

Sour Cream

1-2

tbsp

Horseradish

to taste

1

tsp

Lemon Juice

1

tsp

Worchestershire sauce

Salt & Pepper

to taste
Au jus
1

quart

Beef Broth

whole carton

1

tbsp

Beef Broth Powder
Instructions
Prime Rib
Peel the garlic cloves and slice long ways to make manageable spears

Cut small slits into the roast and insert the garlic spears

Gently coat with olive oil and then cover with a generous coating of the rub mixture, ensuring to massage the mixture into the roast (that's why it's caused a rub).

Let the roast rest for at least 30 minutes to allow the rub to soak in.

Load the roast into the rotisserie, and set the machine to 2 hours.

If desired, now is the time to make the Au Jus and Horseradish Sauce.

Starting around the 1 hour mark, check the doneness using a meat thermometer in the center of the roast. Remember that the temperature will continue to rise while it rests, so pull it out when the temperature is 10-15 degrees below your desired doneness.

Let the roast rest for 15 minutes, then slice into your desired pieces and serve with the Au Jus and Horseradish Sauce (if desired). Add any juices into the Au Jus.
Horseradish Sauce
Combine all of the ingredients into a small bowl

Cover and let rest in the fridge until the roast is done.
Au Jus
Pour the beef broth into a medium sauce pan

Stir in the powdered beef broth

Set the stove on medium and let the broth reduce by 1/3, while the meat cooks.

If desired, thicken with either a water/corn starch mixture or a tsp of Glucomannan (no carb/Keto option) – or nothing (my family prefers it straight)

Remove from heat, and add any juices from the meat for extra flavor