An easy "steamed" artichoke recipe for my friend George.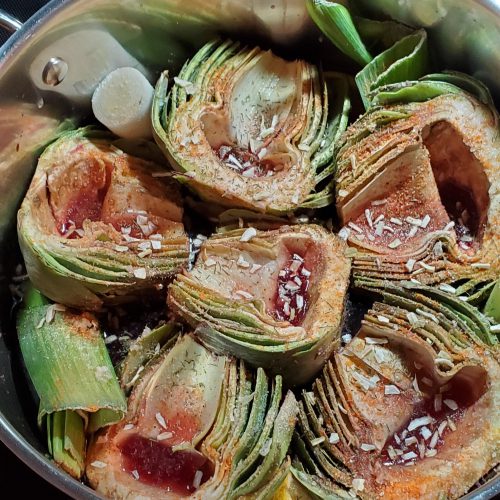 Drunken Artichokes
An easy "steamed" artichoke recipe
Ingredients
Steaming Liquid
1

tbsp

Lemon Juice

1/2

cup

Red Wine

Cabernet Sauvignon

2-4

cups

Water (as required)

1/2

Small Onion

1

tbsp

Minced Garlic

Salt (To taste)

Pepper (To taste)
Optional
1

tsp

Cajun Seasoning (Optional)

1/4

tsp

Dill(optional)

Parsley

Leeks
Instructions
Preparation – Clean the Artichokes
Remove the stem and small bottom leaves.

Slice the artichoke in half (vertically).

With a spoon, scoop out the choke (the feathery stuff in the bottom), and the purple leaves

Place open side up in the pot and sprinkle with lemon juice to prevent discoloration.
Steaming liquid
Add 1-2 inches of water – enough to almost float the artichokes, but not cover them. Add the lemon juice, red wine, garlic, onion, salt and pepper to the pot

Add any optional ingredients (I used dill, cajun seasoning, lemon, and leeks)
Cook Time
Bring the pot to a boil, then cover and simmer for 45 minutes

Remove from pot and let air dry.
Serving ideas
They're good as is, but you can make dips that go well

If you want to balance out the health benefits, you can mix equal parts melted butter and lemon juice together with a pinch of salt. This is my favorite but it's definitely not good for you.